Patient & Family Advisory Council
Concordia Hospital is currently accepting applications for the Patient and Family Advisory Committee.
Are you interested in improving the patient and family experience at Concordia Hospital? Concordia is seeking 4-5 community members for the Patient and Family Advisory Council.
For more information click here.

COVID-19 Guidance Visitor Update – to take effect June 30, 2022
Be sure to visit the Province of Manitoba website for the information and resources related to COVID-19.
Provincial response level changed to YELLOW
As Manitoba's health system continues efforts to resume service areas to pre-pandemic levels of activity, maintaining a number of precautions remains necessary to prevent the spread of COVID-19 and other respiratory viruses.
This transition to more regular health-system operations is made possible by evidence of reduced COVID-19 transmission in the community, including a reduction in staff sick time, outbreaks and COVID-19 positive admissions to Manitoba's intensive care units.
Experts in infection prevention and control have recommended several changes to COVID-19 guidance, which have been reviewed and endorsed by clinical leadership and health system CEOs.
Please note the following revisions to COVID-19 guidance, which will take effect by June 30, 2022.
Who is eligible for general visitation to hospitals? Manitobans are able to visit inpatients in Green Zones for social visits. Visits must occur during regular visiting hours. What about visits to Orange and Red Zone patients? Designated Caregiver access to ORANGE and RED zone patients should continue to occur virtually wherever possible. In-person visitation is considered in order to meet care needs of the patient. General visitor access to orange and red zone patients is not permitted, except in End of Life situations.
Expanded Visitor Access Acute and Long Term Care Takes Effect Beginning June 30
These guidelines do not replace clinical and operational judgement of operators.
When making decisions and plans to support visitation, operators use discretion, assess risk and remain client centered. Health facilities across the province have different physical infrastructure. The numbers of individuals permitted in each space may differ from site to site, and room to room. Sites may consider visitation in other spaces, provided physical distancing and other infection prevention and control measures can continue to be met. Presence of individuals in the room must not interfere with ability to provide clinical care and remains the priority above the allowances stated below.
Vaccination status is no longer a requirement for visitation. Screening is still required upon entry, using appropriate screening algorithms for managing visitors. Visitors are required to sign in and out and perform hand hygiene. Operators will maintain records of visitors who attend the facility for 30 days.
Visitation may be impacted in the case of a confirmed or potential outbreak in the facility, or upon direction of the Chief Provincial Public Health Officer.
General visitors are not permitted during an outbreak, or to Orange or Red Zone patients/residents, except in End of Life situations.
Designated Caregiver (DC) access to Orange and Red patients/residents should continue to occur virtually wherever possible. In-person visitation is considered in order to meet care needs of the resident /patient.
Definitions:
Designated caregivers (DC) – provide physical, psychological and emotional support, as deemed important by the patient/resident. This care can include support in decision making, care coordination and continuity of care. Designated caregiver can include family members, close friends or other caregivers and are identified by the patient/resident or substitute decision maker. (Note: Designated caregiver language replaces essential care partner and designated family caregiver.)
General visitor – Family and friends who visit for social reasons. Their time with the patient/resident is discretionary and short term. They are not involved in the care of the patient/resident.
Expanded Visitor Access
While screening and use of personal protective equipment remain in effect, an expansion of access (both for designated caregivers and for general visitors) is now permitted in both acute and long-term care settings.
Where physical space limits the number of visitors that may be present at one time, access for designated caregivers will remain the priority.
Designated Caregivers Visiting Hours : 8 AM- 7 PM

For inpatients and personal care home residents, a patient/resident may identify up to 4 Designated Caregivers (an increase from 2). Up to 2 Designated Caregivers may visit at a time.
Acute Care (ED/UC and outpatient) – Up to 2 Designated Caregivers may be identified (an increase from 1) and may visit at a time in most circumstances.
Designated Caregivers will also no longer be required to wear eye protection, with limited exceptions identified by the care team. See updated Provincial PPE Requirements (https://sharedhealthmb.ca/files/covid-19-provincial-ppe-requirements.pdf) for full details.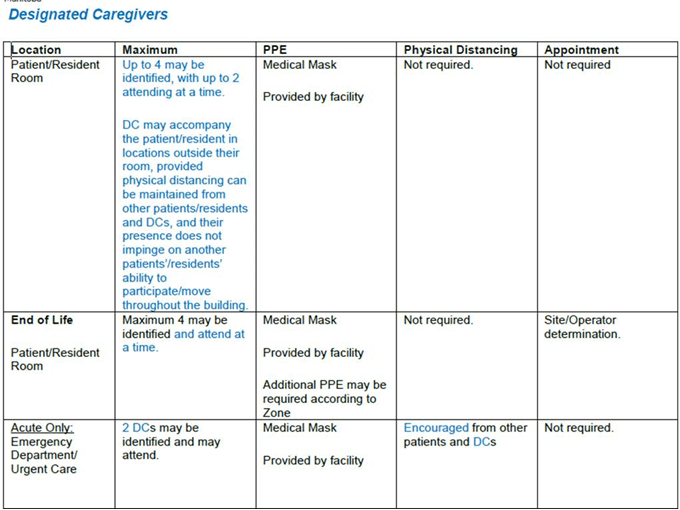 General Visitors: Visiting hours 10:00 AM – 7P.M.

For inpatients at Concordia Hospital the patient may identify will be increased from 2 General visitors to four general visitors
General visitors will also be permitted in end of life situations, where space permits.

Outdoor Visits

For visits that take place outdoors, masks will no longer be required.
Updated Physical Distancing Guidance
Physical Distancing

Physical distancing will continue to be encouraged in all health-care spaces and environments. Physical distancing will continue to be required when participating in higher risk activities, such eating or when singing.
As always, up-to-date information is available at the following locations:
Information for the Public: https://www.gov.mb.ca/covid19/
Information for Health Care Providers, Physicians & Staff https://sharedhealthmb.ca/covid19/providers/
Valerie Wiebe │ President/COO
Concordia Hospital / Concordia Place
Tel 204–661-7144 | vwiebe6@concordiahospital.mb.ca
About Concordia Hospital
Concordia Hospital was started in 1928 by a group of Mennonites who had immigrated to Canada from Russia. Seeing the need for health care in the growing immigrant community they started their first project, which was a 4 bed maternity hospital. This project would grow to become the present Concordia organization, which includes Concordia Hospital and Concordia Place. The blessing they had received by being able to immigrate to Canada motivated them.
Concordia's mission, vision and values come from this Anabaptist/Mennonite heritage and commitment to mutual aid through compassionate service by offering compassionate care in the name of Christ and in the spirit of Christian community. Our focus is on healing all those we serve.
We believe that we have a mutual obligation to care for each other. Just as those that started Concordia showed it in 1928, we hope that you will feel that obligation as we care for you during your stay at Concordia today.