Welcome to Concordia Hospital
COVID-19 Important Updates
Non-medical Masks now required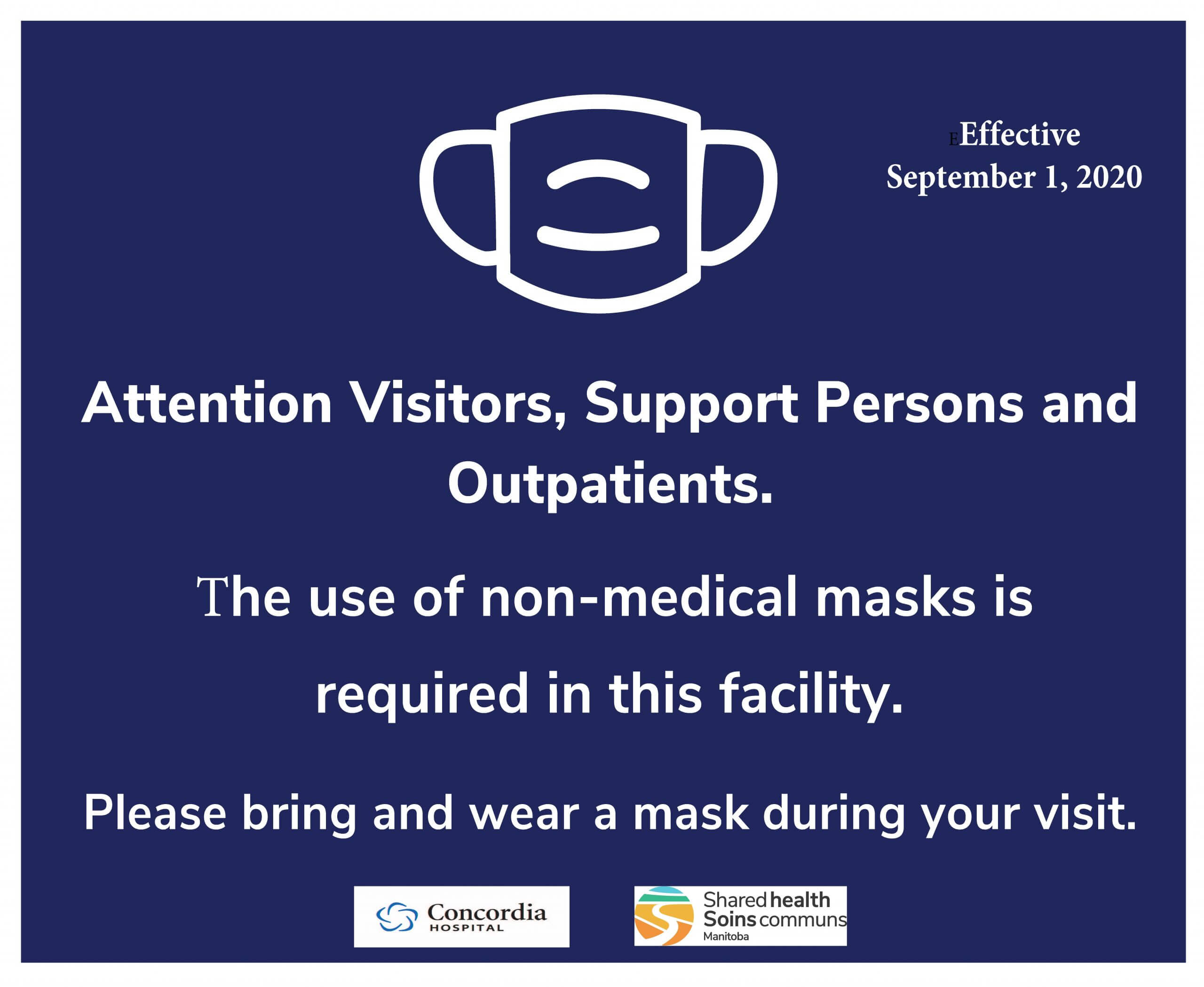 Thank you for considering the safety of others
Use of a non-medical mask is required during all visits to health-care facilities. Visitors and/or outpatients or others who refuse to wear a mask and who are not exempted from the requirement due to a medical condition or age (5 years or less) will be escalated to our leadership team for consideration on a case-by-case basis .
Those who are not deemed to have a valid reason for not wearing a mask will be politely denied entry.
Patients who require urgent or emergent care will not be refused entry and will be provided with a medical mask if appropriate.
Does this requirement apply to outdoor visits?
No. Wearing of a non-medical mask during outdoor visits is not required, but is encouraged.
How is a non-medical mask correctly used?
Non-medical masks should allow for easy breathing, fit securely to the head with ties or ear loops and be large enough to completely and comfortably cover the nose and mouth without gaping. Masks should not be shared and must be changed if they become damp or dirty.
Where can I find more information on wearing and caring for masks?
Public Health Agency of Canada information on non-medical masks is available by referring to https://www.canada.ca/en/public-health/services/diseases/2019-novel-coronavirus-infection/prevention-risks/about-non-medical-masks-face-coverings.html
Directions on the appropriate care and use of non-medical masks are also available to print or share with visitors by referring to: https://sharedhealthmb.ca/files/non-medical-mask-poster.pdf
---
Restored Visitor Access
Manitoba hospitals and health centres, including the Concordia Hospital, have restored visitor access for patients as part of Manitoba's reopening.  
SCREENING: Everyone entering the hospital will still be screened for symptoms and travel history by hospital staff before being permitted to proceed.
VISITOR ACCESS: Patients are allowed one designated visitor at a time. Exceptions for compassionate reasons or end of life will continue to be made on a case-by-case basis. We are still encouraging everyone to visit by phone or other virtual device to let your loved one know you are thinking about them.    
For more detailed information:   Inpatient Visitors at Concordia
DESIGNATED ENTRANCES: Anyone entering Concordia Hospital for a procedure, appointment , urgent care visit or a patient visit will be screened at one of the following entrances:
Front entrance from 8 am to 7 pm
Ground floor level clinic entrance from 8 am to 5 pm.
Urgent Care Doors (24-hours a day)
APPOINTMENTS: Scheduled surgeries, appointments, diagnostic tests, and lab work for out-patients continue unless you have been notified otherwise. If a family member is coming to pick you up after your appointment or test, please have them wait for you outside of the hospital or in the car rather than waiting for you in the hospital. This will help to better enable 6 ft. physical distancing in the hospital waiting areas and will help to minimize traffic and reduce the risk of spread.
DO NOT VISIT ANY HEALTH CARE FACILITIES IF YOU HAVE:
Returned from inter-provincial travel from Eastern Canadian provinces or international travel in the past 14 days.
Had close contact with someone with a confirmed COVID-19 case.
Had close contact with someone being tested for COVID-19 at this time.
Been instructed to self-isolate or self-monitor.
Have cold or flu symptoms.
We are sorry for this inconvenience and thank you for your patience and cooperation.
You can stay up-to-date with the latest evolving COVID-19 information by visiting www.manitoba.ca/covid19
If you have additional questions please feel free to contact our patient relations office at patientrelations@concordiahospital.mb.ca or 204-661-7108.
---
About Concordia Hospital
Concordia Hospital was started in 1928 by a group of Mennonites who had immigrated to Canada from Russia. Seeing the need for health care in the growing immigrant community they started their first project, which was a 4 bed maternity hospital. This project would grow to become the present Concordia organization, which includes Concordia Hospital and Concordia Place. The blessing they had received by being able to immigrate to Canada motivated them.
Concordia's mission, vision and values come from this Anabaptist/Mennonite heritage and commitment to mutual aid through compassionate service by offering compassionate care in the name of Christ and in the spirit of Christian community. Our focus is on healing all those we serve.
We believe that we have a mutual obligation to care for each other. Just as those that started Concordia showed it in 1928, we hope that you will feel that obligation as we care for you during your stay at Concordia today.